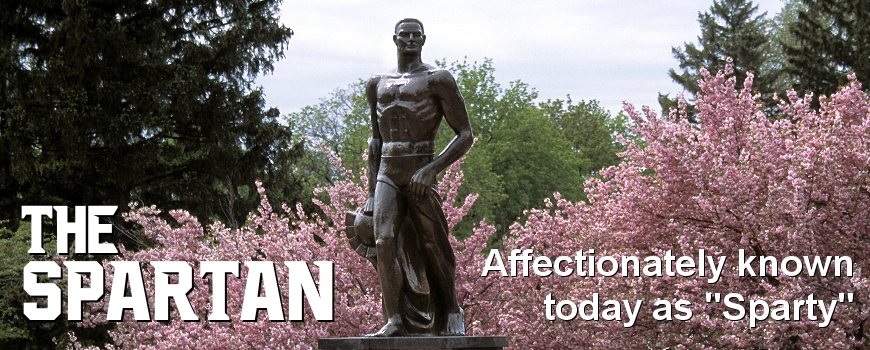 The official mascot of Michigan State University is the Spartan, though he is affectionately known today as "Sparty." He is usually depicted as a muscular male Spartan warrior/athlete dressed in stylized Greek costume. After changing the team name from "Aggies" to "Spartans" in 1925, various incarnations of a Spartan warrior with a prominent chin appeared at university events and in university literature.
In 1943, MSU art professor Leonard Jungwirth (in the white coat) designed a statue for the university, which had to be cast in terra cotta because of World War II rationing of materials. Dedicated on June 9, 1945, the original terra cotta Spartan is made of five large glazed terra cotta sections fired from red Ohio clay. The pieces are joined by mortar joints, with a poured concrete core over a steel frame. The statue stands 9' 7" and weighs about 3,000 pounds. Though the statue's pose recalls classic Greek sculpture, Jungwirth's design is closer to the mid-20th century modernist design, borrowing heavily from Cubism, Futurism, and depression-era civic art.

By the late 20th century, Michigan's harsh winters had taken a toll on the terra cotta statue, as had vandalism by fans of MSU's rival University of Michigan. While annual repair work helped stem the damage done by precipitation, extreme cold, and vandalism, the statue needed more intensive repair. In 1989, a campaign helped restore the statue. Restorers made fiberglass molds of the original "Sparty." New molds were made in 2004, because the 1989 molds had deteriorated, to cast an identical bronze replica that would better stand up to bad weather and vandalism.

The original terra cotta Spartan statue was removed from its base on May 12, 2005. In Summer 2005, the intersection at which the statue stood (where Kalamazoo Street meets Chestnut Road) was completely redesigned to allow for safer traffic interaction with pedestrians. On August 25, 2005, an unveiling of the new bronze Spartan took place. In addition, a Sesquicentennial parade on October 8, 2005, concluded with a dedication ceremony at the statue. Meanwhile, the original terra cotta Spartan was moved to the west entrance of Spartan Stadium where it could be displayed safely indoors.

In printed materials, MSU uses a copyrighted characature of Sparty, usually drawn with a grimace and several days' worth of whiskers, lending to the nickname of "Gruff" Sparty. Sparty also can be seen as a foam rubber mascot with an oversized head. The mascot costume, worn by students whose identities are rarely revealed, appears at many university sporting, alumni, and fundraising events. He is often portrayed in MSU notices and materials.

The outdoor Spartan statue is a popular site of MSU graduates, having their photo taken in "cap & gown." Many wedding couples and their bridal parties have their photos taken with Sparty in the background. The outdoor statue is often the victim of vandalism by University of Michigan students the night before the weasels wolverines play MSU in football at Spartan Stadium. To help prevent such vandalism, MSU students often sleep all night long at the feet of Sparty during Homecoming week. One old and rather crude rumor about the Spartan statue is that if a virgin ever graduates from MSU, Sparty will drop his bronze helmet. As you can see, he still has his helmet firmly in hand.

Much of the above text was either taken directly or modified from Wikipedia.
---
| | |
| --- | --- |
| | The original Spartan statue now stands inside Spartan Stadium's west lobby. Its replica (made with more durable, weather-resistant materials) stands a few hundred yards northwest of the stadium. |
This statue stands on my fireplace mantel.

Manufactured by The Memory Company LLC; made in China, of course. It appears to be some kind of resin, then painted to simulate bronze. Done very nicely.

9¼" tall, 2¼ pounds
I purchased this statue on eBay. It was reportedly from the 1960s, made of plaster. Although the seller wrapped it carefully for shipment, his wrapping was insufficient. Fortunately, I was dealing with an honest seller, and he refunded my full purchase price. Nonetheless, I was a bit sick about the loss of this rare item.

14" tall
This web page is supported with private funds, and is for educational and entertainment purposes only. It is not associated with Michigan State University. Our thanks to anyone who may have contributed to this compilation of photos and facts.