1855



2005
A Tribute to Michigan Agricultural College
in Celebration of MSU's Sesquicentennial
Saturday, February 12, 2005 • Two O'Clock in the Afternoon
Commencing at Beaumont Tower

Also see the Water Carnival, Sesquicentennial Parade, and my collection of MAC memorabilia.

MSU chose to celebrate the sesquicentennial on Friday, February 11, perhaps to coincide with the inauguration of Dr. Lou Anna K. Simon as MSU's 20th president. It may have been convenient for MSU, but it was a day early nonetheless. We chose to honor the founding of MAC on the correct day: February 12. It was 45ºF and sunny, just a perfect February day for strolling campus... and remembering.
---
College Hall (Beaumont Tower) - Friends, we are gathered here today, to commemorate the founding of our alma mater. It was established by the Michigan legislature as Michigan Agricultural College on February 12, 1855... 150 years ago today. It was the country's first land grant university, and was a model for 69 land-grant institutions that would follow under the Morrill Act of 1862. We are now standing on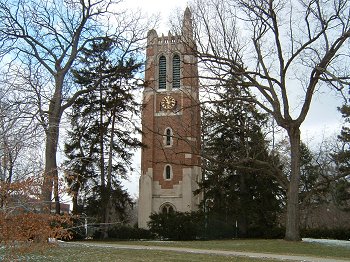 the site of the first building on the MAC campus. It was known as College Hall. Built in 1856, it was a boxy, colonial-looking building, three stories tall. College Hall was humble, but within its walls were conducted many activities essential to getting MAC off the ground, everything from Agricultural Chemistry courses to make-shift church services held in the same classrooms. This was an all-purpose building serving a fledgling college community. It is no wonder that this building, serving as a home, a classroom, and a spiritual sanctuary, came to hold a warm place in the hearts of the students who gathered here. Arrangements were made in the early years of the 20th century to renovate and preserve the Hall, and make it a Student Union. However, during the renovation in 1918, significant structural weakening was discovered. Countermeasures were taken in an attempt to reinforce the compromised structure, but two of the building's walls eventually collapsed. College Hall, the beginning of the Land-Grant system, lay in ruins. There is no doubt the destruction of College Hall had a large impact on the students who held it so dear. One former student affected by this turn of events was alumni John Beaumont, who in time would play a central role in making sure College Hall would never be forgotten. Beaumont earned a degree from MAC in 1882. He later became a successful lawyer with the financial means to give back to his alma mater in some way. It was he who conceived the idea of erecting a tower on the site of College Hall to commemorate this historic building. Indeed, a tower was built, entirely with Beaumont's donations, on the site of College Hall. It is the highest point in the circle on north campus. The 105 foot collegiate gothic tower was completed in 1928. So revered was College Hall that it can still be seen today at the center of MSU's official seal. Its memories may be heard whenever the carillon bells of Beaumont Tower are played. And so friends, let us honor College Hall. Though gone from these grounds, may it never be gone from our memories.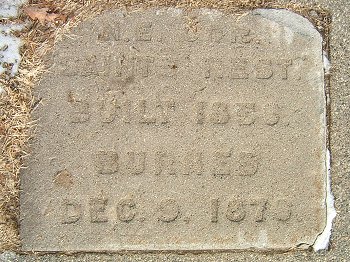 Saints' Rest (east of Museum) - We now stand on the site of the first student dormitory on campus, "Saints' Rest," built in 1856. The building did not have an official name during its lifetime, but was known by such generic terms as "the hall" and "the home." The name "Saints' Rest," apparently after a popular religious book of the time, was not applied to the building until after it burned to the ground in December 1876. A small paving stone embedded at the edge of the sidewalk just east of the Museum still marks the northeast corner of the Saints' Rest foundation. The engraving is faded, and the stone is almost invisible to students who pass it each day. It says, "Northeast corner. Saints' Rest. Built 1856. Burned December 9, 1876." At certain times of the year, when the grass is cut short, a close observer can see hints of the building's foundation in the color variations in the lawn. Alongside College Hall and Saints' Rest once stood a modest, 28' x 40' horse barn. It was constructed in 1856 of the same locally-produced bricks. It stabled the college's horses until a new and much larger horse barn was completed in 1872. Afterward, this building was used as a carpentry shop. It is believed to have been torn down in 1915. And so you have it. The first three buildings on the young MAC campus: College Hall, Saints' Rest, and the horse barn. I would also like to point out that just on the other side of that large tree is a water fountain, a gift from the Class of 1900. One side was for students, the other for their horses. (Descriptive text modified from Kevin Forsyth's excellent website. Thanks Kevin!)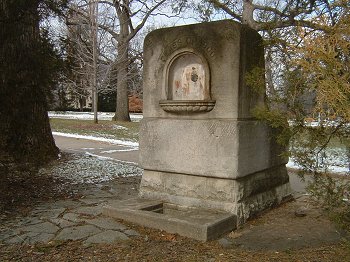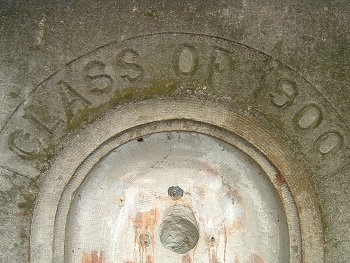 But now, let us move to a more familiar site: Macklin Field, where they played some football.
Before we continue, I want to call your attention to one who has joined us today for our tribute to MAC. He is my neighbor Vic Lindsay. Vic is the only person here today who was alive back in the days when it was still Michigan Agricultural College (he was one year old when it became Michigan State College in 1925). But of far greater importance, Vic fought in Europe during World War II, and earned the Bronze Star of Bravery for his service in helping keep the world free. Vic, we are honored to have you join us today. (Note: Vic passed away in October 2006. I will miss him. He was a good friend, a good neighbor, and a decorated war hero.)
Macklin Field (Spartan Stadium) - We now stand on the north end of Macklin Field, named in honor of John Macklin, the first MAC football coach to beat the Michigan Wolverines. The UM-MSU football rivalry began in 1896, but it wasn't until 1913 that Macklin and his Aggies finally beat the Wolverines. That was the ONLY loss for Michigan that year, making the Aggie victory even sweeter. The UM-MSU match up has occurred every year since 1910, with the exception of a break in 1943 and 1944 due to World War II. The next MSC coach to have success against Michigan was Charlie Bachman, who beat the Wolverines four years in a row, 1934 through 1937. Macklin Field was dedicated in 1924. It had a capacity of 26,000. In 1948, Macklin Field was re-dedicated as Macklin Stadium. Capacity was increased to 51,000. Upper decks were added on both sides of the playing field in 1957, boosting the capacity to 76,000. The stadium was also renamed Spartan Stadium. As we stand on the banks of the Red Cedar, let us also observe this rock and its marker, dedicated to those members of the MSC Varsity Club who gave their lives in "the Great War" (World War I). Included on the marker is the name F. I. Lankey, graduating Class of 1916 (the plaque is misspelled as "I. F. Lankey"). Lankey was an MAC cheerleader. One year before his death, he wrote the lyrics to a song that we still sing today. History tells us that in the mid-1800s, administrators at University of Michigan vehemently opposed MAC from forming. But when UM refused to offer agricultural courses, the Michigan legislature stepped in and established Michigan Agricultural College. And so it began. The bitter rivalry was captured in the words of the "MAC Fight Song." Even in 1915, Lankey focused on what was really important in life: beating Michigan! "On the banks of the Red Cedar is a COLLEGE known to all. Their specialty is FARMING, but those FARMERS play FOOTBALL! AGGIE teams are never beaten... all through the game they fight. Fight for the only colors... Green and White! SMASH RIGHT THROUGH THAT LINE OF BLUE... watch the points keep growing! AGGIE teams are bound to win… they're fighting with a vim (rah! rah! rah!). See THEIR LINE is weakening. We're going to win this game! Fight, fight... rah, team, fight! Victory for MAC!" Let us now raise our collective voices in memory of Francis Irving Lankey, as we sing the words as we know them today... (sing "MSU Fight Song")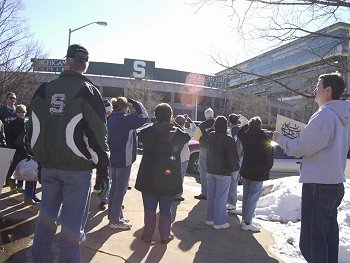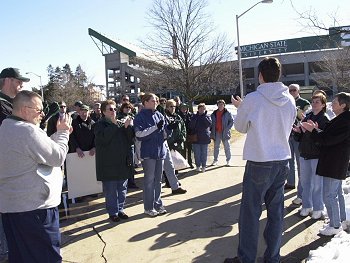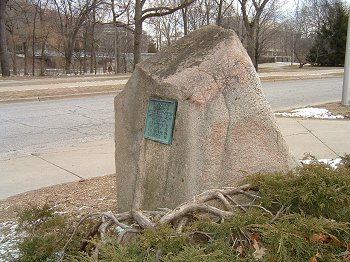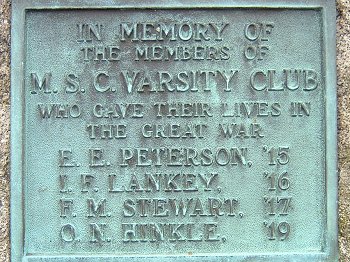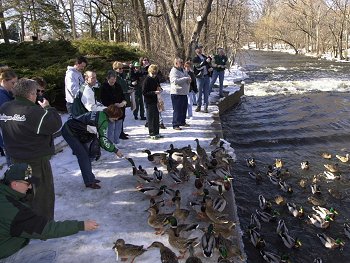 North shore of Wells Hall - A tour of our lovely campus would not be complete without feeding the ducks of the Red Cedar. (feed ducks)
Farm Lane Bridge - We now stand at Farm Lane, established very early in the college's history. Its name suits its purpose: it was the access road to the college farms south of the Red Cedar River. The first bridge was made of wood in 1860. A replacement was built in 1875. A third bridge was built in 1888, this time from steel. Since the dairies and barnyard compounds were north of the river, and the pastures were to the south, for decades livestock was the predominant traffic across the bridge. In the early years, female students were forbidden south of the river. The land on which we now stand was considered "too wild." Obviously, this was in an era of strict propriety, and this rule was one of many curfews and conduct guidelines. Until the 1920s, the campus south of this bridge was simply farmland. The cows were believed to be more at home here than the ladies would ever be. (Descriptive text modified from Kevin Forsyth's excellent website. Thanks Kevin!)
The Rock (southwest of Auditorium) - Our final stop, my friends, is here at what is known affectionately and quite simply as The Rock. It is a geological curiosity, once used by MAC students to study mineral contents. The rock's original resting place was imbedded in the ground near the main entrance to campus on Abbott Road near today's Union Building. It was lying so its flat face was parallel to the ground and exposed to view. After the rock was deemed to be an obstruction, the graduating Class of 1873 moved it to a "sacred space" near College Hall, north of today's Beaumont Tower. The students engraved "Class '73'" on its face. And somewhere beneath the hundreds of layers of paint, the simple inscription exists today. The rock thus became the first gift to the school by a graduating class. In 1986, the rock was moved to its present location. Over the years, the tradition of painting the rock has been embellished with an unwritten code of etiquette, primarily that the rock be painted only at night and that the painters must stand vigil until daybreak if they want their creation to remain intact for the day. (Descriptive text modified from Kevin Forsyth's excellent website. Thanks Kevin!)
In keeping with this tradition, we painted the rock last night, and have stood vigil all night long. (And if you believe that, you might be a candidate for graduate work at UM.) It was not until 1899 that MAC took steps toward adopting a green monogram to be worn exclusively by athletes who took part in intercollegiate events. It is generally thought the colors came into wide use with the arrival of Chester Brewer in 1903 as the school's first full-time director of athletics. Brewer also coached the Spartan football, basketball, baseball and track teams… the only varsity units in existence at the time. And so today, we will again decorate The Rock with the beloved monogram of Michigan Agricultural College. (paint rock)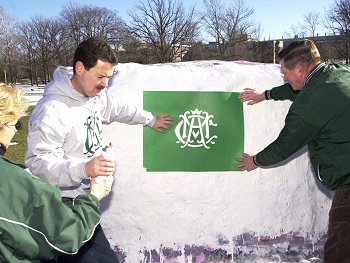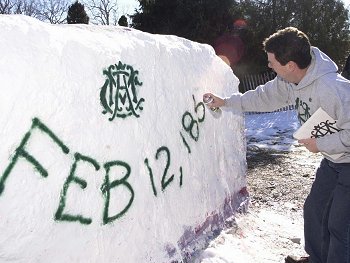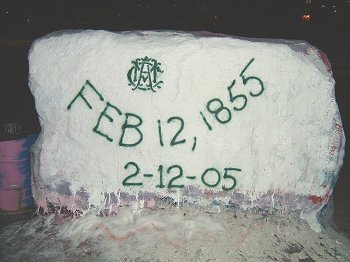 Adjourn - And now friends, let us conclude today's brief but sincere tribute to Michigan Agricultural College, expressing our heartfelt appreciation for those who laid the framework for our beloved alma mater, and sending forth blessings upon those who walk this campus in the years ahead. There is much, much more that we could say about our beloved MAC. But let this suffice for today. Before we disperse, I would like to thank Kevin Forsyth for his excellent research about our beloved MAC, to those who traveled far to join us today, and to those who helped me choreograph today's tribute. Let us now go forth to join fellow Aggies at Tripper's Restaurant where we will gain sustenance through adult beverages, and partake in watching our basketball team vanquish the Wolverines from UM (Note: Today's final score was MSU 64, UM 49). But before we do, let us join voices in singing the words written in 1927 by MSC Assistant Football Coach "Barney" Traynor. We know them today as "MSU Shadows." (sing "MSC, we love thy shadows when twilight silence falls, flushing deep and softly paling o'er ivy covered halls. Beneath the pines we'll gather to give our faith in thee, sing our love for Alma Mater, and thy praises, MSC.")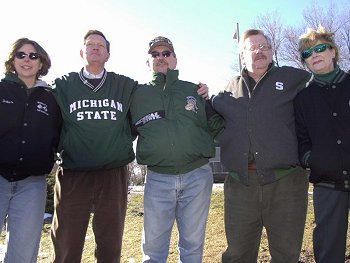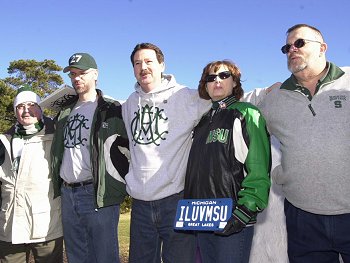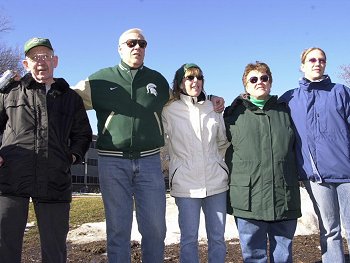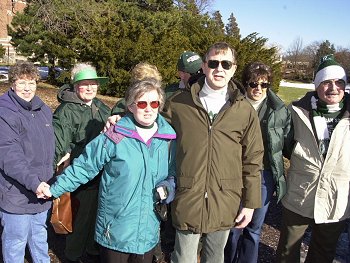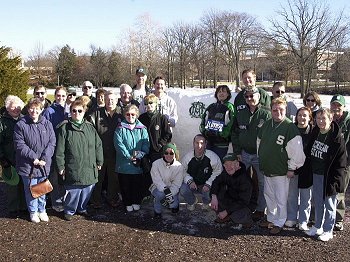 My thanks to member George White and to Tim Potter for today's photos.
---
Water Carnival ~ October 7, 2005
After a 36-year hiatus, the Water Carnival was revived for MSU's Sesquicentennial. It was a cool afternoon, but the crowd enjoyed watching 16 floats pass in review down the Red Cedar.
Also see the Sesquicentennial Parade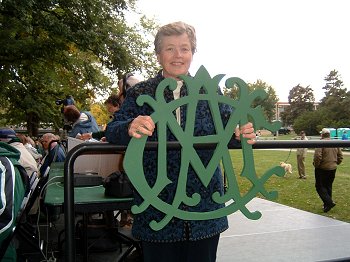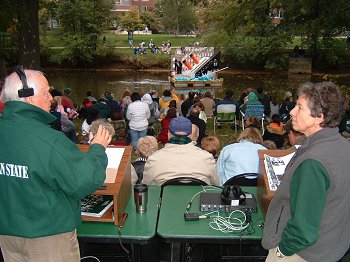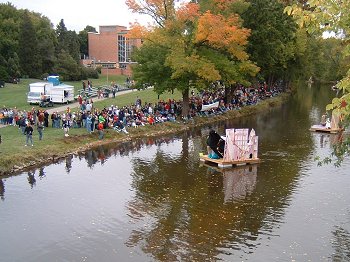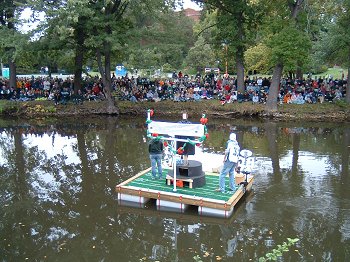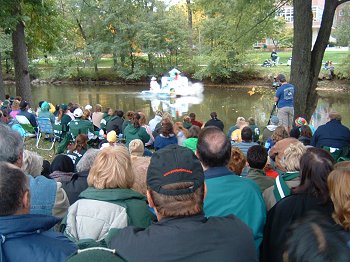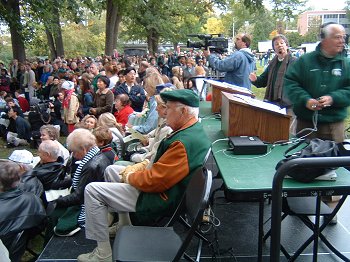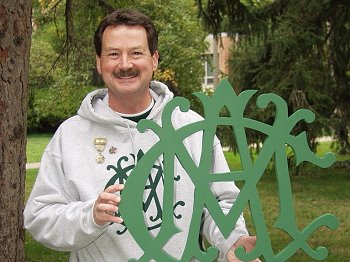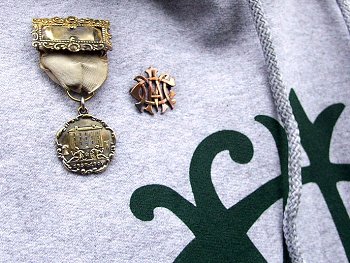 ---